Missed last year Cleo's Cover search? Never fear! Cleo Cover Search is Back. You could try your luck.Who knows you will win and appear on Cleo magazine.You could win a stylish wardrobe from jaspal,stunning jwellry from diamond & platinum and beautiful cosmetics from The body Shop.Also land modelling opportunities with adrewsmodels.And most of all your face on Cleo cover.
1# Buy August 2008 issue and get your form. Just spend RM5.60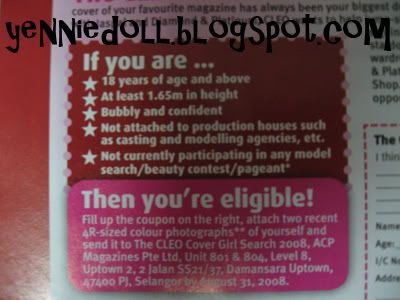 2# Check if you are eligible or not.
OMG
let me see if im eligible
*18 years of age and above -check
*

at least 1.65m in height -OMG im only 1.58-1.60m
*bubbly and confident -check
*Not attach to production houses such as casting ..blah blah -check
*Not currently participate in any model search -check


OMG whyyyy... what does a face on the cover have to do with height?


haha,this is my own cover of Cleo *blek*
No need requirement,just say cheese ^^