OMG
i have my 1st interview at phileo damansara later at 3pm
how am i feeling?
like im in a haunted house....whats going to happen?
am i going to be acepted?what if the company is fake...like omg...and its a guy
i better prepare my pepper spray! haha!
the way he reply
Hi Evelyn,
We do accept internship, please do come over and have a chat session to know each other.
Cheers,Victor
heh..like this also can?

this is my outfit for today
Green?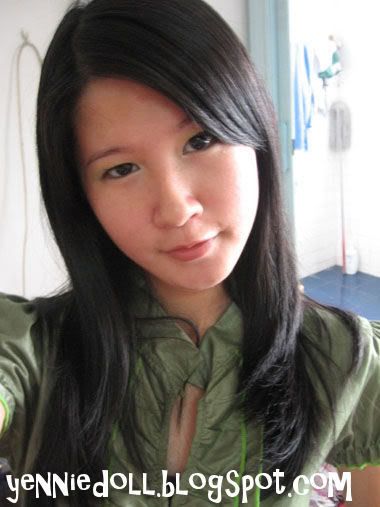 i just woke up at around 10am
then i hear
CUT & ACTION
CUT & ACTION
i was like O____o
then i see below the window
student shooting video,dunno acting wad
i manage to take a pic..muhaha...Busted!
ok,this is so outdated post,its about 5th of july...
me n my parents when to summit at night
(ps: we always go out to eat on weekends)
We went to Garden Cafe to eat and i ordered
Chicken Chop
because my brother eat so slow,and its almost 9pm ...my sibling needs to go to popular book shop.So,me and my sis go to popular ...
inside popular im searching for VIVI magazine.My sis shop for stationary.
Sadly they dont have the VIVI mag i want....T.T
i went to find my sis and i saw a bunch of stickers!!!!
AND ITS UBER CUTE
something very funny
me:looking at stickers,lala come and have a look
sis:(coming)
me:i feel like buying one but its so expensieve,same cost as my mag
sis:looking at dog stickers
me:hmm,want to buy mag or stickers..if i buy mag..the baju i cant wear also.. :( if i buy stickers,want to stick where?
sis:the dog look like cheesie dog..so cute
me:thinking..hmmm
so i took the candy sticky which look very yummy! along with me to the cashier ..we were at the 3rd row...im still deciding
me:duno wan buy or not oooo
sis:buy sticker so xing ku ah
me:yealo...dont know want or not
sis:if buy clothers ...i think very hard for you
sis:so hard to decide meh
2nd row
me:now i feel like putting it back
sis:-__________-
me:its RM 6.90 leh huhu T.T
me:ok la..i buy..we share the sticker 50/50
sis:agree
so we bought the sticker..finally..LOL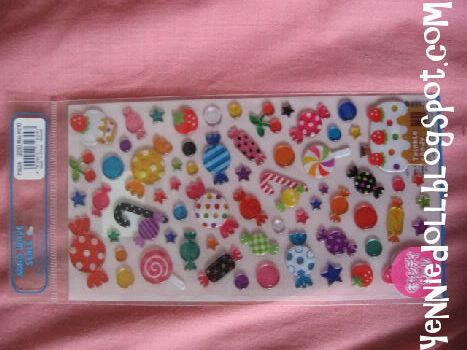 My dad called , we are at guardian now
so we went to guardian to find my parents...STOP!but before that
me and my sis went to a magazine shop
and they have the new..not that latest la...but its still the latest VIVI MAGAZINE
TADAAAA!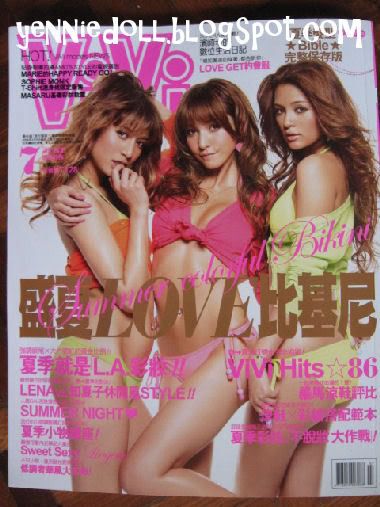 i used my money to buy and it cost same price as the sticker...sobs
then we find our parents at guardian..my dad and my bro eating MCD sundae cone...
then he told us that they having promotion buy 1 get 1 free!
Me n my sis rush rush go to MCD and buy our ice-cream 2 for a price of 1..whoa!!!!
DAMN LUCKY..haha
*****************************UPDATES*********************************
before i went for interview,i ate chicken + chaw siew rice
i buy on the same block i live
whoa..after eat then after some KSCB happy hour....the clock strike 2pm .OMG
i faster get ready n pack my laptop
took a cab to go there..take me 30min to find the place lol
ok...so i found the company,and i wait 4 my interview.damn panic!
so its the hand shake...n after interview...i was relief...
i got the job! How quick? But sadly....he say "i not really give allowance"
wth....@_________@
NO money i eat what?travel no need money ?
what about my look?
i want to curl my hair and dye it...
damn,i have waited for so long to change my
hairstyle

lol,bt anyway lecturer say that dun greed for money its just an
internship
!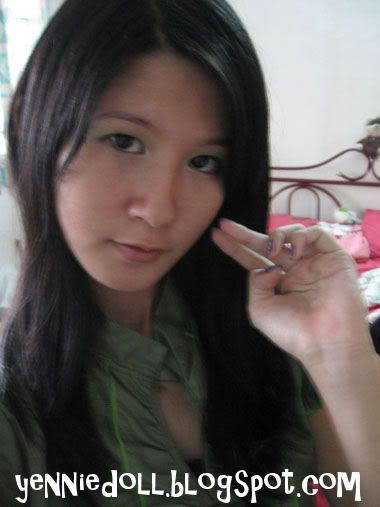 so this is me taking a pic of my face?O_o
eh wait
i found something more funny or weird
after i create a blog...
my sis create(ps:cz i tell her too) haha
my friend create
huh...what is this????? all want to become blogger?